News
A multi-facetic cultural identity in River Claure's photographs.
By Vigil Gonzáles - Cusco, Perú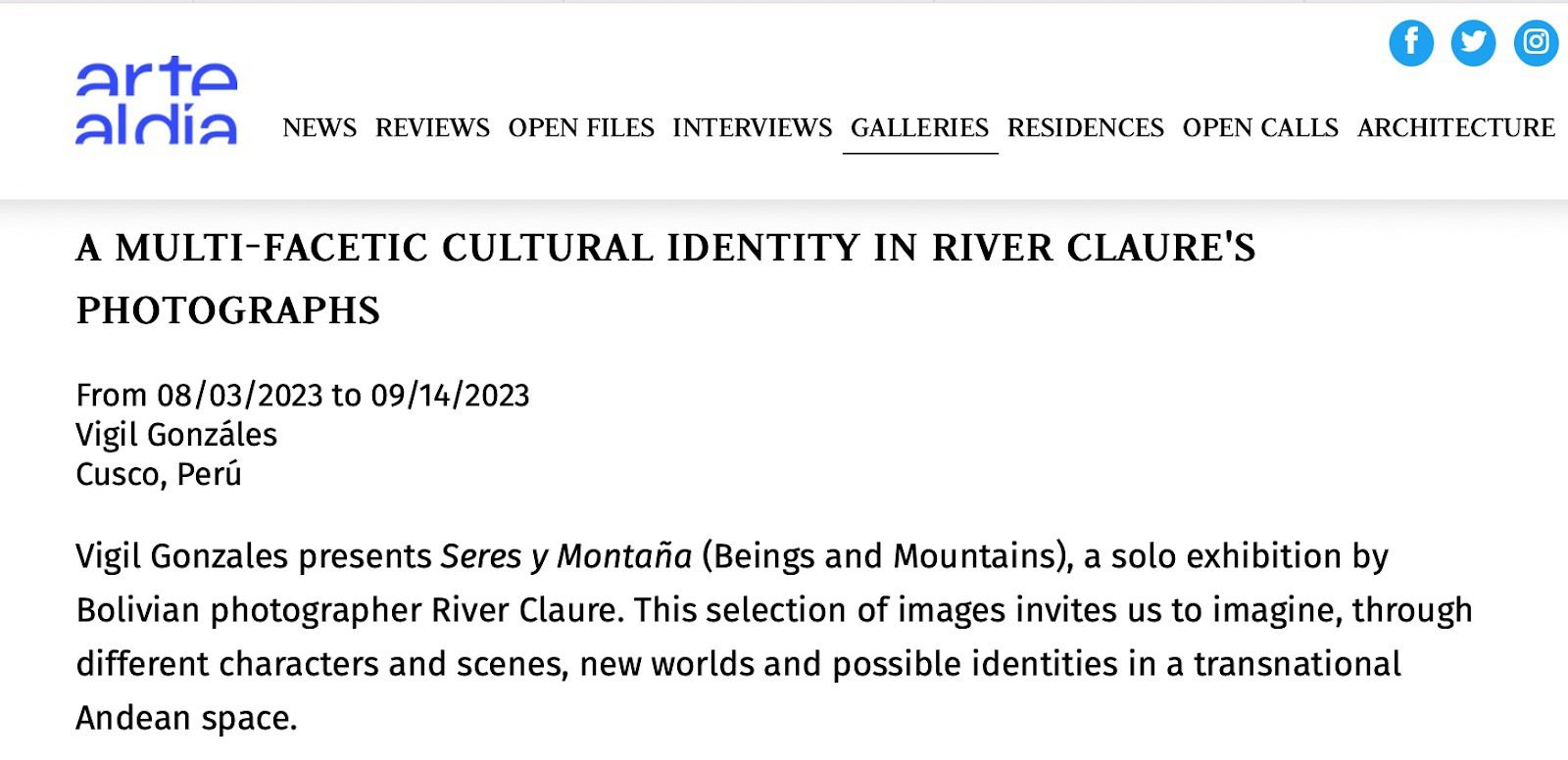 Vigil Gonzales presents Seres y Montaña (Beings and Mountains), a solo exhibition by Bolivian photographer River Claure. This selection of images invites us to imagine, through different characters and scenes, new worlds and possible identities in a transnational Andean space.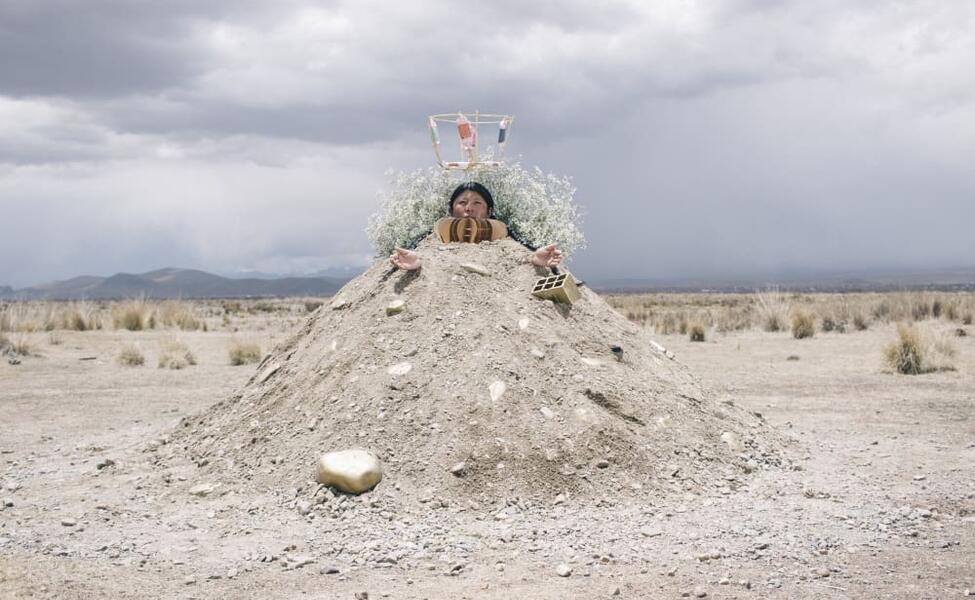 River Claure. Mita I, 2023.
Impresión giclee sobre papel algodón.
120 x 80.04 cm. Ed. 5
Through his images, the artist seeks to portray two concepts: beings and mountains. However, through his work, viewers can see that these two notions are not separate or exclusive, but are intertwined with each other and contribute to understand the andean identity. By resorting to elements considered as "traditional" and others as "global", scenes are constructed to create an imagined situation that invites the viewer to question the existing dilemmas regarding identity and what is conceived as indigenous.
The "Cerro Virgin" is one of the beings (and mountains) that appear in Claure's images. There is a use of Christian symbols in particular, alluding to the role of Catholicism in the colonial conquest of Bolivia, but more often underlining the multiple layers of understanding and existence in national identity. The two images in which this character appears reflect the Virgin Mary, but also Pachamama, the figure of Mother Earth in Aymara culture.
 Claure generates juxtapositions at the moment of constructing the images, which also refer to the constitutive process of identity. A central concept in his work is the Aymara word "Ch'ixi", which refers to the gray tone resulting from the combination of two or more threads that generates the creation of a new tone that at the same time contains two separate tones. When constructing identity, many threads can be present, new ways of seeing it can be created, new indigeneities can be created, it can be contradictory and also change with time.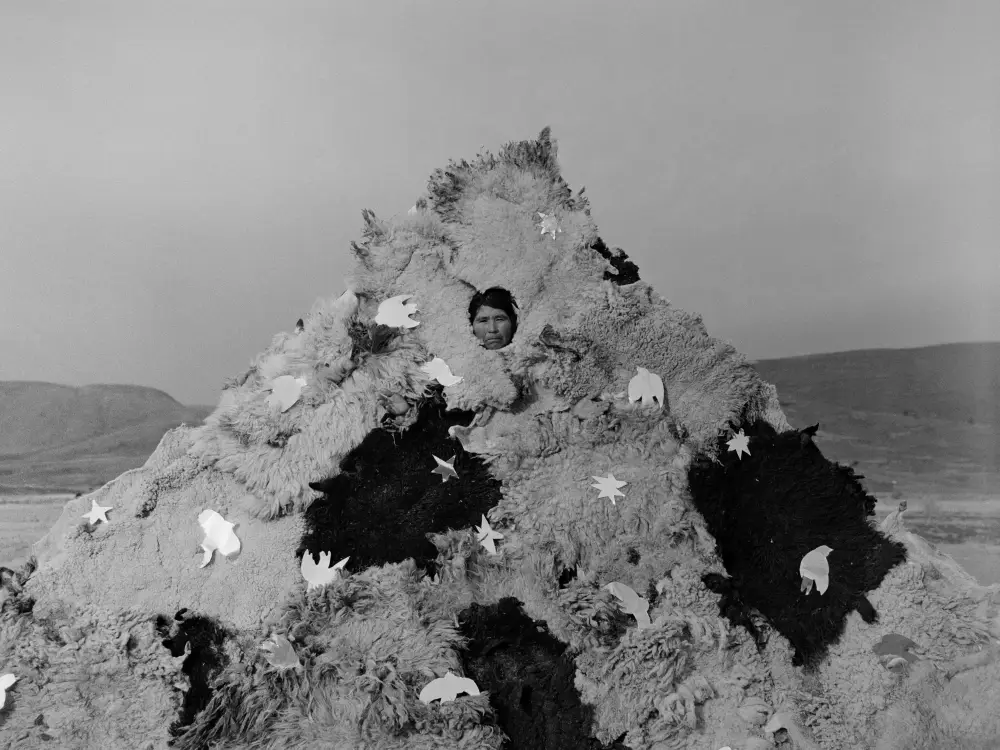 River Claure. Mita II, 2023.
Impresión giclee sobre papel algodón.
120 x 80.04 cm.
The project replaces clichés and stereotypes with an alternative, multifaceted and complex image of Bolivian identity. It presents a world in which the old and the new, the traditional and the modern, the specific and the global coexist.
Seres y montañas. Solo exhibition by River Claure.
Until September 14, 2023.
Vigil Gonzáles. Pampa del Castillo 455. Cusco, Peru.
Read more:
https://www.artealdia.com/Galleries/A-MULTI-FACETIC-CULTURAL-IDENTITY-IN-RIVER-CLAURE-S-PHOTOGRAPHS 
Spanish version:
https://es.artealdia.com/Galerias/UNA-IDENTIDAD-CULTURAL-POLIFACETICA-EN-LAS-FOTOS-DE-RIVER-CLAURE