Artists
Gonzalo Hernandez
Gonzalo Hernandez (b. 1991, Lima, Peru) is a multi-disciplinary artist whose work delves into personal narratives related to contemporary dilemmas such as labor, success and failure, the art world, and identity. As an immigrant, his installation, painting and textiles works are highly particular to his perspective, while also addressing broader cultural associations. Blurring the lines between art and life, Hernandez finds truth and meaning in the overlooked, using everyday encounters with text, language, and material as fodder for symbolic interpretations.

Hernandez received his MFA from the Savannah College of Art and Design, Savannah, GA in Fibers; and an MA in Painting. His work has been exhibited in solo exhibitions at Kates-Ferri Projects, NY; SCAD Museum of Art, Savannah, GA; Vigil Gonzales, Cuzco, PE; Laundromat Art Complex, Miami, FL and Alianza Francesa, Lima, Peru. Hernandez has shown in several group shows at Mindy Solomon, Miami; LVL3, Chicago, IL; Kates-Ferri Projects, New York, NY; Icpna, Lima, Peru; Charlotte Street Foundation, Kansas City, MO; MCC Art Gallery, Arizona, AZ; Galeria Rebelde, Guatemala; MOCA in Georgia, Atlanta, GA; among others.

Gonzalo Hernandez
Born in 1991 in Lima, Peru.

Education
2017-2019 MFA, Fibers, Savannah College of Art and Design, Ga, USA
2017-2018 MA, Painting, Savannah College of Art and Design, Ga, USA
2012-2013 Junior Year, Parsons Paris, Paris, FRANCE
2009-2015 Corriente Alterna, Lima, PERU

SOLO/TWO-PERSON SHOWS

2023
We Will Have To Tear Down All These Walls Kates-Ferri Projects, New York Apr 20 – May 20

2022
Preámbulo Holsum Gallery, Kansas City, Mo
Notes Curated by J. Gibran Villalobos, _VIGILGONZALES, Cusco Peru

2021
"Almost There" Curated by J. Gibran Villalobos -Laundromat Art Space, Miami
"SIH" collaboration with Todd Schroeder, THE END, Atlanta
"Selections of Daily Practice: 2018-2021", Vigil Gonzales, Cuzco Peru

2020
– "(:(", Scad Museum of Art, Savannah

GROUP SHOWS

2023
– Re-construir refugios, Alianza Francesa, Lima, PE
– NOW WHAT?! (Drawing Edition), John Harriman CCPB, Lima, PE
All inclusive, _VIGILGONZALES, Republica Dominicana
Drawing from Nature, Pinecrest Gardens, Miami, FL
Hand over Hand: Textiles Today, Mindy Solomon, Miami, FL 

2022
HILOS QUE RESISTEN, HILOS QUE SUBVIERTEN, Gabriela Germana ,John Harriman CCPB, Lima, PE
Ball Bearing, LVL3, Chicago, IL
Preludio Acaiaca, Acaiaca, Belo Horizonte, BR
Homecoming, Kates-Ferri Projects, New York, NY
Making Space, Allegheny Art Galleries, Allegheny, PA
La Historia de la Lona, La Galeria Rebelde, Guatemala
"Free Association", Gutstein Gallery, Savannah, USA 

2021
Collabo. Seven Seas Motel & Together Art, Miami, Fl
Viewpoints: Expressions of an artist community co-curated by Edouard Duval-Carrié and Laura Novoa, Bakehouse Art Complex, Miami,USA Nov 13-Mar 27, 2022

2021
Premio ICPNA Arte Contemporáneo 2021, Galería Juan Pardo Heeren, Lima, PE Nov 4 – Dec 22
"Who We Were/Who We Are/Who We Will Be", curated by Amy Kligman, Charlotte Street Foundation, Kansas City, USA June 11 – July 10
"Sabor y Control", curated by Ivan Sikic, Vantage Art Projects, Online 

2020
"Georgia Artists of Hispanic/Latinx Origin", Museum of Contemporary Art of Georgia, Atlanta, USA

2019
"Sorry Not Sorry: posiciones, disposiciones y oposiciones", curated by Max Hernandez  CCPUCP, Lima, PERU
"Threaded", curated by Mark Newport and Maria-Elisa Heg, MCC ArtGallery, Arizona, USA
"The Artist as Muse", Gutstein Gallery curated by Ariella Wolens and Ben Tollefson, Savannah, USA
"Factory 1.1" – Alexander Hall, Savannah, USA
"Java"- La Vitrina de la Oficina m20 Hotel Savoy, Lima, PERU
"On Being Tender" a group meditation on penetrability and softness, curated by Amanda Carol, Savannah, USA

2018
"Other People's Bodies", curated by Zara Bell, Alexander Hall, Savannah, USA
"Hispanic Month"-  Savannah State University – Kennedy Fine Arts Gallery, Georgia, USA

2017
"SmallWorks", Gutstein Gallery, Savannah, USA
"Hybrids", Alexander Gallery, Savannah, USA

2015
– Final Show, Corriente Alterna, Lima, PERU

2013
"Inicio" – Garage Art, Lima, PERU
Master Piss, NNM.Studio, Lima, PERU
"The aesthetics of the naked", Paris College of Arts, Paris, FRANCE

2012
After "thoughts", Parsons Paris School of Art and Design, Paris, FRANCE
XXI National Competition for Young Artists "Cerro Verde", ICPNA, Lima, PERU

2011
XXI National Young Artists Competition Museum of Contemporary Art, Arequipa, PERU
9th International Art Competition Enbotellarte, Lima, PERU

2010
"Art is for all" Converse, Lima, PERU
Exhibition of the Week V-Peru, LIMA, PERU

RESIDENCIES, FAIRS & COLLABORATIONS

2023
MECA Art Fair, _VIGILGONZALES, Santo Domingo, R. DOM

arteba, _VIGILGONZALES, Buenos Aires, ARG

2022
Design Miami Collaboration w/ SCAD and Ceramica Suro, Miami, FL
Feria Ch.ACO, _VIGILGONZALES, Santiago de Chile, CH
Zona Maco Art Fair, La Galeria Rebelde, Ciudad de Mexico, MX

2021
Together Arts, La Pera Projects, Miami, FL
Longroadprojects, Untitled Art Fair, Miami, FL
Kates-Ferri Projects Artist Residency, November, NYC
Current Studio at the Bakehouse Art Complex, Miami, FL

2020
AFA Masterclass THE INSTITUTIONAL COLLAPSE, ONLINE
Long Road Projects & Erie Arts and Culture, Pennsylvania, USA
Chuquimarca Residency, Chicago, USA
Artist INC KC, Kansas City, USA
De arte en linea, Coveralls, Lima, PERU
dibujos x amazonia, Lima, PERU

2019
Hen House, Savannah, USA

CURATORIAL PROJECTS

2021
"Azul, el Cielo", Cleo Gallery, Savannah, USA
"choreography", Abrir Galeria, ONLINE

2020
"Momento", Holsum Gallery, Kansas City, USA
"Today", Abrir Galeria, ONLINE
"Present Tense", Laney Contemporary, Savannah, USA

2019
"Procedure of creation by designation"- Curated group show, The Lodge Savannah, USA

LECTURES & MEDIA

2022
Notes, Talk with Gibran Villalobos, Vigil Gonzales, Online
La Historia de la Lona, Conversatorio, La Galeria Rebelde, Online

2021
SIH, Zoom talk, The End Space, Atlanta, Ga
Quick chat with Dainy Tapia, ART.SEEN.365, Miami, Fl
Manana, Web de Critica, Examenpe, Lima, Peru
Olenka Macassi, Textos Libres, Lima, Peru, Online
Presentacion Libro "):)", Max Hernandez, Ralph Bauer y Veronica Majluf, Libreria SUR, Lima, PERU

2020
"Tour the diverse artistry of painter Gonzalo Hernandez on 'Guests and Gusto'", SCAD Museum of Art, Savannah, USA
Guest lecturer, FIBR 337 (Deborah First), Savannah College of Art and Design, Savannah, USA
Guest lecturer, Fibers Department, Abrir Galeria, Savannah College of Art and Design, Savannah, USA
Taller de Artista Fidel Barandarian, Lima, PERU
ARTSINC "Workshare", Kansas City, USA
Virtual Studio Visits, Valeria Rovatti, ARGENTINA
Share Screen: Closed Parentheses, Colon, Closed Parentheses, Chuquimarca, Chicago, USA
Gonzalo Hernandez (b. 1991, Lima, Peru) is a multi-disciplinary artist whose work delves into personal narratives related to contemporary dilemmas such as labor, success and failure, the art world, and identity. As an immigrant, his installation, painting and textiles works are highly particular to his perspective, while also addressing broader cultural associations. Blurring the lines between art and life, Hernandez finds truth and meaning in the overlooked, using everyday encounters with text, language, and material as fodder for symbolic interpretations.
Hernandez received his MFA from the Savannah College of Art and Design, Savannah, GA in Fibers; and an MA in Painting. His work has been exhibited in solo exhibitions at Kates-Ferri Projects, NY; SCAD Museum of Art, Savannah, GA; Vigil Gonzales, Cuzco, PE; Laundromat Art Complex, Miami, FL and Alianza Francesa, Lima, Peru. Hernandez has shown in several group shows at Mindy Solomon, Miami; LVL3, Chicago, IL; Kates-Ferri Projects, New York, NY; Icpna, Lima, Peru; Charlotte Street Foundation, Kansas City, MO; MCC Art Gallery, Arizona, AZ; Galeria Rebelde, Guatemala; MOCA in Georgia, Atlanta, GA; among others.
Gonzalo Hernandez
Born in 1991 in Lima, Peru.
Education
2017-2019 MFA, Fibers, Savannah College of Art and Design, Ga, USA
2017-2018 MA, Painting, Savannah College of Art and Design, Ga, USA
2012-2013 Junior Year, Parsons Paris, Paris, FRANCE
2009-2015 Corriente Alterna, Lima, PERU
SOLO/TWO-PERSON SHOWS
2023
We Will Have To Tear Down All These Walls Kates-Ferri Projects, New York Apr 20 – May 20

2022
Preámbulo Holsum Gallery, Kansas City, Mo
Notes Curated by J. Gibran Villalobos, _VIGILGONZALES, Cusco Peru

2021
"Almost There" Curated by J. Gibran Villalobos -Laundromat Art Space, Miami
"SIH" collaboration with Todd Schroeder, THE END, Atlanta
"Selections of Daily Practice: 2018-2021", Vigil Gonzales, Cuzco Peru

2020
– "(:(", Scad Museum of Art, Savannah
GROUP SHOWS
2023
– Re-construir refugios, Alianza Francesa, Lima, PE
– NOW WHAT?! (Drawing Edition), John Harriman CCPB, Lima, PE
All inclusive, _VIGILGONZALES, Republica Dominicana
Drawing from Nature, Pinecrest Gardens, Miami, FL
Hand over Hand: Textiles Today, Mindy Solomon, Miami, FL 
2022
HILOS QUE RESISTEN, HILOS QUE SUBVIERTEN, Gabriela Germana ,John Harriman CCPB, Lima, PE
Ball Bearing, LVL3, Chicago, IL
Preludio Acaiaca, Acaiaca, Belo Horizonte, BR
Homecoming, Kates-Ferri Projects, New York, NY
Making Space, Allegheny Art Galleries, Allegheny, PA
La Historia de la Lona, La Galeria Rebelde, Guatemala
"Free Association", Gutstein Gallery, Savannah, USA 
2021
Collabo. Seven Seas Motel & Together Art, Miami, Fl
Viewpoints: Expressions of an artist community co-curated by Edouard Duval-Carrié and Laura Novoa, Bakehouse Art Complex, Miami,USA Nov 13-Mar 27, 2022
2021
Premio ICPNA Arte Contemporáneo 2021, Galería Juan Pardo Heeren, Lima, PE Nov 4 – Dec 22
"Who We Were/Who We Are/Who We Will Be", curated by Amy Kligman, Charlotte Street Foundation, Kansas City, USA June 11 – July 10
"Sabor y Control", curated by Ivan Sikic, Vantage Art Projects, Online 
2020
"Georgia Artists of Hispanic/Latinx Origin", Museum of Contemporary Art of Georgia, Atlanta, USA
2019
"Sorry Not Sorry: posiciones, disposiciones y oposiciones", curated by Max Hernandez  CCPUCP, Lima, PERU
"Threaded", curated by Mark Newport and Maria-Elisa Heg, MCC ArtGallery, Arizona, USA
"The Artist as Muse", Gutstein Gallery curated by Ariella Wolens and Ben Tollefson, Savannah, USA
"Factory 1.1" – Alexander Hall, Savannah, USA
"Java"- La Vitrina de la Oficina m20 Hotel Savoy, Lima, PERU
"On Being Tender" a group meditation on penetrability and softness, curated by Amanda Carol, Savannah, USA
2018
"Other People's Bodies", curated by Zara Bell, Alexander Hall, Savannah, USA
"Hispanic Month"-  Savannah State University – Kennedy Fine Arts Gallery, Georgia, USA
2017
"SmallWorks", Gutstein Gallery, Savannah, USA
"Hybrids", Alexander Gallery, Savannah, USA
2015
– Final Show, Corriente Alterna, Lima, PERU
2013
"Inicio" – Garage Art, Lima, PERU
Master Piss, NNM.Studio, Lima, PERU
"The aesthetics of the naked", Paris College of Arts, Paris, FRANCE
2012
After "thoughts", Parsons Paris School of Art and Design, Paris, FRANCE
XXI National Competition for Young Artists "Cerro Verde", ICPNA, Lima, PERU
2011
XXI National Young Artists Competition Museum of Contemporary Art, Arequipa, PERU
9th International Art Competition Enbotellarte, Lima, PERU
2010
"Art is for all" Converse, Lima, PERU
Exhibition of the Week V-Peru, LIMA, PERU
RESIDENCIES, FAIRS & COLLABORATIONS
2023
MECA Art Fair, _VIGILGONZALES, Santo Domingo, R. DOM
arteba, _VIGILGONZALES, Buenos Aires, ARG
2022
Design Miami Collaboration w/ SCAD and Ceramica Suro, Miami, FL
Feria Ch.ACO, _VIGILGONZALES, Santiago de Chile, CH
Zona Maco Art Fair, La Galeria Rebelde, Ciudad de Mexico, MX
2021
Together Arts, La Pera Projects, Miami, FL
Longroadprojects, Untitled Art Fair, Miami, FL
Kates-Ferri Projects Artist Residency, November, NYC
Current Studio at the Bakehouse Art Complex, Miami, FL
2020
AFA Masterclass THE INSTITUTIONAL COLLAPSE, ONLINE
Long Road Projects & Erie Arts and Culture, Pennsylvania, USA
Chuquimarca Residency, Chicago, USA
Artist INC KC, Kansas City, USA
De arte en linea, Coveralls, Lima, PERU
dibujos x amazonia, Lima, PERU
2019
Hen House, Savannah, USA
CURATORIAL PROJECTS
2021
"Azul, el Cielo", Cleo Gallery, Savannah, USA
"choreography", Abrir Galeria, ONLINE
2020
"Momento", Holsum Gallery, Kansas City, USA
"Today", Abrir Galeria, ONLINE
"Present Tense", Laney Contemporary, Savannah, USA
2019
"Procedure of creation by designation"- Curated group show, The Lodge Savannah, USA
LECTURES & MEDIA
2022
Notes, Talk with Gibran Villalobos, Vigil Gonzales, Online
La Historia de la Lona, Conversatorio, La Galeria Rebelde, Online
2021
SIH, Zoom talk, The End Space, Atlanta, Ga
Quick chat with Dainy Tapia, ART.SEEN.365, Miami, Fl
Manana, Web de Critica, Examenpe, Lima, Peru
Olenka Macassi, Textos Libres, Lima, Peru, Online
Presentacion Libro "):)", Max Hernandez, Ralph Bauer y Veronica Majluf, Libreria SUR, Lima, PERU
2020
"Tour the diverse artistry of painter Gonzalo Hernandez on 'Guests and Gusto'", SCAD Museum of Art, Savannah, USA
Guest lecturer, FIBR 337 (Deborah First), Savannah College of Art and Design, Savannah, USA
Guest lecturer, Fibers Department, Abrir Galeria, Savannah College of Art and Design, Savannah, USA
Taller de Artista Fidel Barandarian, Lima, PERU
ARTSINC "Workshare", Kansas City, USA
Virtual Studio Visits, Valeria Rovatti, ARGENTINA
Share Screen: Closed Parentheses, Colon, Closed Parentheses, Chuquimarca, Chicago, USA
Warning
: Undefined array key "type" in
/home/www/vigilgonzales.com/wp-content/themes/bricks/includes/integrations/dynamic-data/providers/provider-jetengine.php
on line
520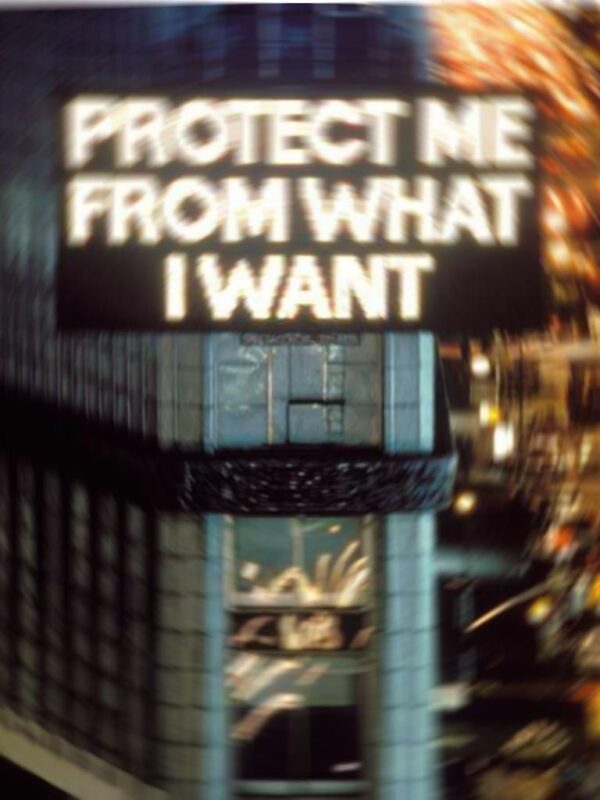 Jacquard Woven
127 x 152.4 cm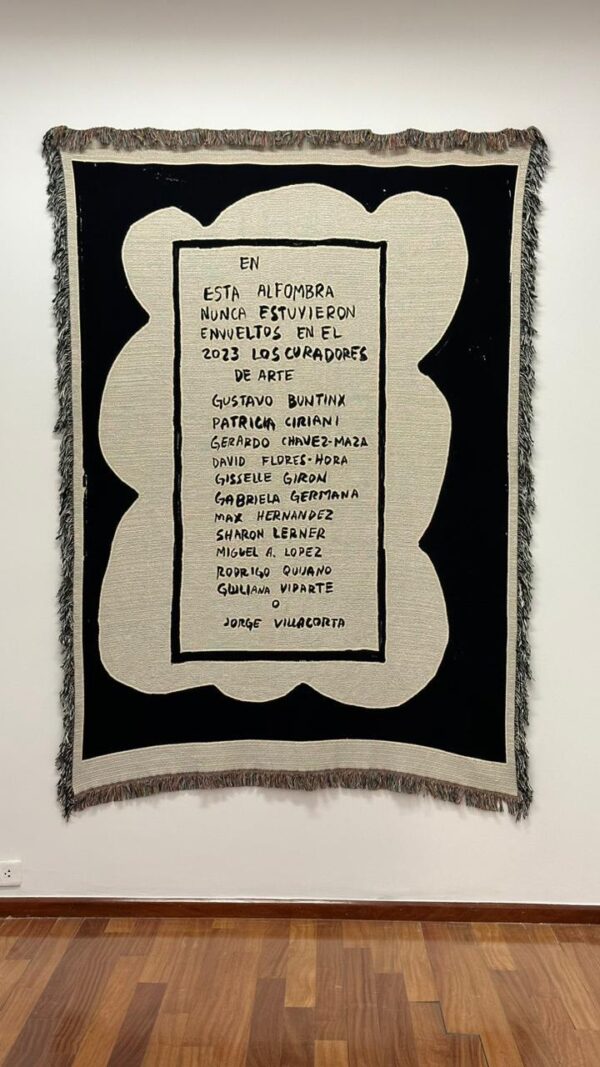 Tejido Jacquard
200 x 153 cm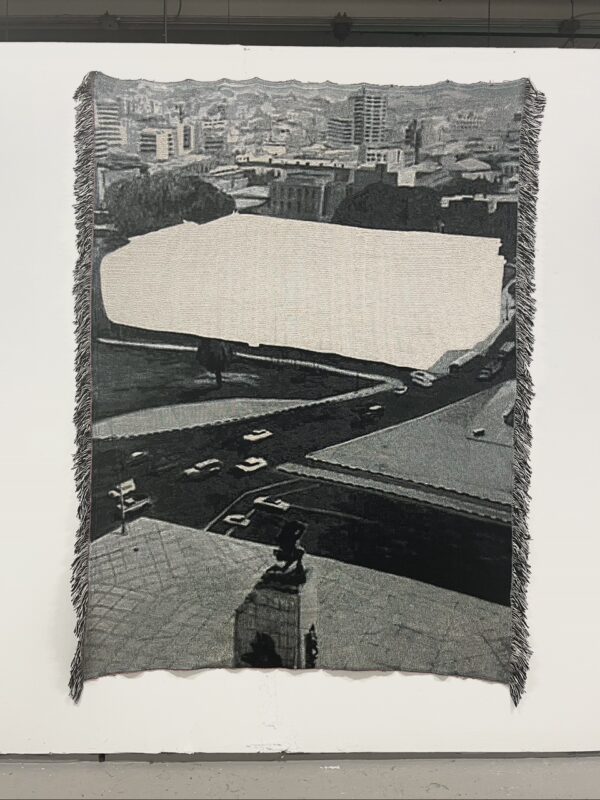 Artist Proof, Jacquard Woven
203 x 153 cm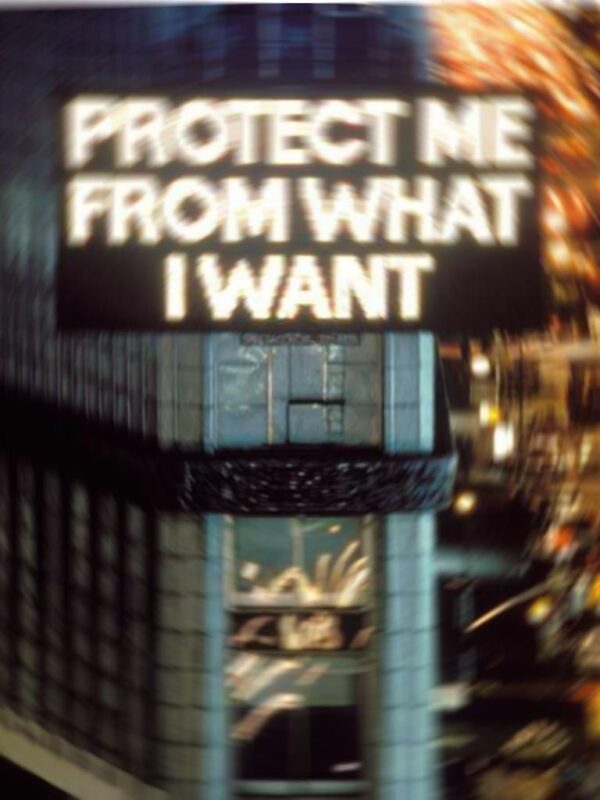 Untitled (Protect me from what I want), 2023
Edition 1 of 1 + AP
Jacquard Woven
127 x 152.4 cm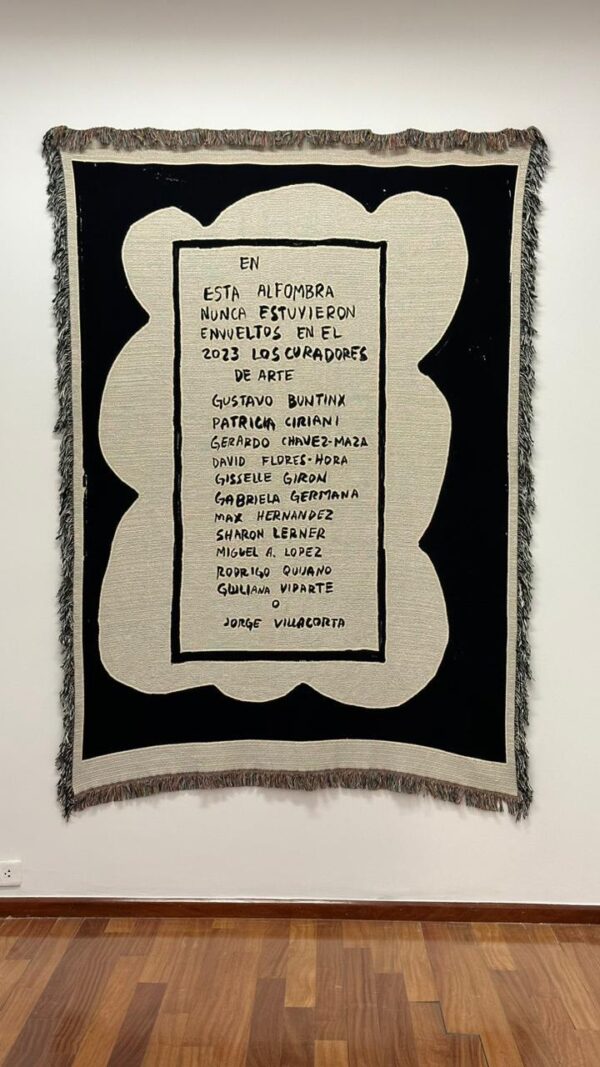 La alfombra (Apres Covarrubias) (El acceso que tenía Casari a Villacorta), 2023
Tejido Jacquard
200 x 153 cm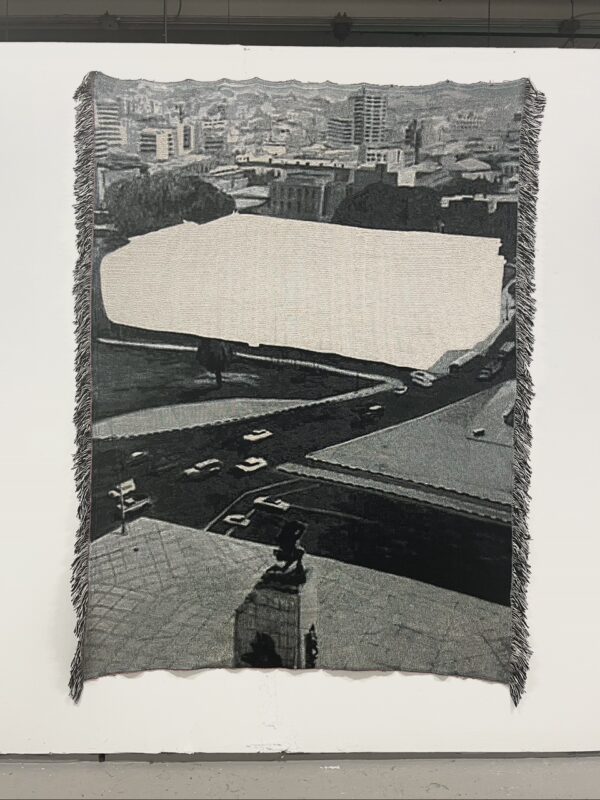 El Museo de Arte borrado (Apres Sandra Gamarra, 2008-2009/d'apres Emilio Hernández Saavedra, 1970), 2021
Artist Proof, Jacquard Woven
203 x 153 cm